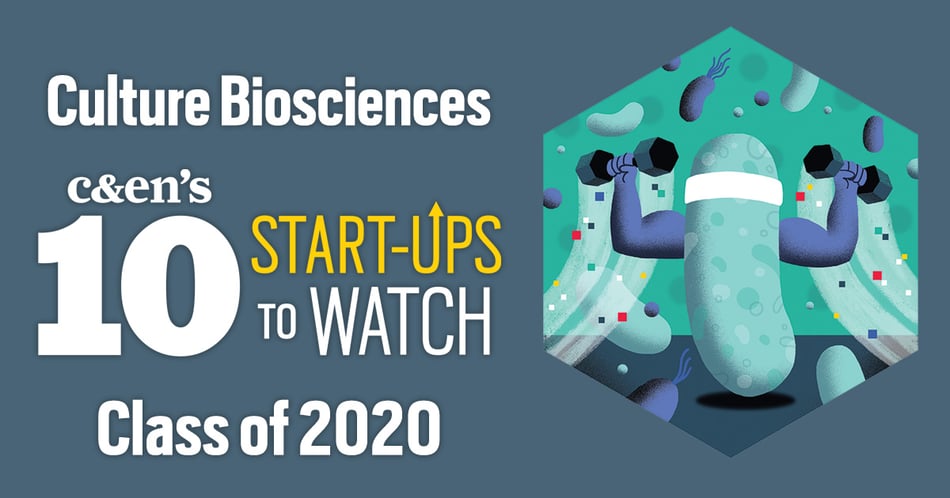 SAN FRANCISCO, CA. Nov. 24, 2020 — Culture Biosciences, the company dedicated to making biomanufacturing R&D a digital experience, announced that it has been selected as one of "10 Start-Ups to Watch" according to Chemical and Engineering News (C&EN) magazine. Culture was chosen from hundreds of nominations submitted globally. C&EN, the newsmagazine of the American Chemical Society (ACS), profiled Culture with the other winners in its cover story of companies with potentially world-changing innovations.
Culture was chosen by C&EN's editors for its first product, a cloud lab for bioreactors, which is revolutionizing biomanufacturing process development and scale-up. Many industries are deploying cloud technology for increased efficiency and speed to market, and biotech companies stand to reap similar benefits. It is common for biomanufacturing companies to experience bottlenecks in their process development, mainly due to lack of bioreactor capacity and cumbersome data management.
"With Culture's bioreactor cloud lab, we are enabling our customers to develop and scale their bioprocesses in less time, helping to bring their transformational bioproducts to market sooner" said CEO Will Patrick. Without using Culture, clients have to invest time, money and effort into building their own lab of bioreactors, hiring staff to run them, and managing the data. "That's not where the attention should be," Patrick said. "Instead, companies should be working on what products will generate a huge impact on the world and generate revenue."
Using Culture's cloud bioreactor infrastructure and data platform, biotech innovators in various industries such as biopharma, synthetic biology, and food and agriculture can focus on designing experiments and rely on Culture for the execution of those experiments. The benefits of working with Culture go beyond an efficient model for executing experiments: because all of the experimental data gets uploaded to the cloud in real time, customers can monitor and analyze their data through Culture's online dashboard.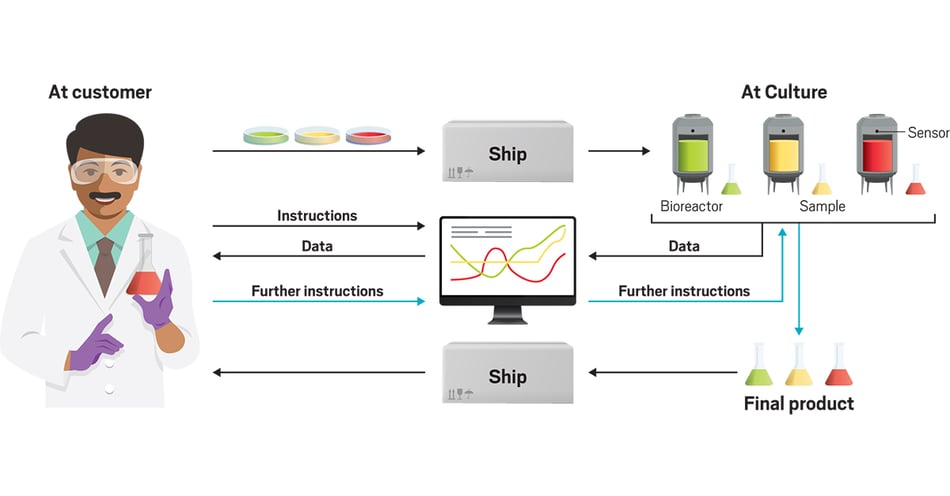 To date, numerous companies have looked to Culture to accelerate their bioprocess development so that they can scale up faster and get products to market sooner. Companies that have implemented Culture's platform include Zymergen, Modern Meadow, Nektar Therapeutics, and Clara Foods among others.
For biotech companies looking to learn more about Culture or start planning experiments, get in touch with Culture's team.
The full article, "C&EN's 2020 10 Start-Ups to Watch" is available at: http://cenm.ag/startups-2020.
About Culture Biosciences
Culture Biosciences is a technology company in South San Francisco, CA, that offers companies a faster and more efficient way to do biomanufacturing R&D. By leveraging Culture Bioscience's cloud bioreactor platform, bioprocess scientists can spend more time designing and analyzing experiments. Culture's cloud bioreactors offer full control of experimental design and allow real-time monitoring and live process changes. Beyond generating more data more quickly, Culture's platform provides advanced data visualization and analytics tools to generate new insights into bioprocesses. To learn more, please visit www.culturebiosciences.com or connect with us on Twitter and LinkedIn.
About the American Chemical Society
The American Chemical Society (ACS) is a nonprofit organization chartered by the U.S. Congress. ACS' mission is to advance the broader chemistry enterprise and its practitioners for the benefit of Earth and its people. The Society is a global leader in providing access to chemistry-related information and research through its multiple research solutions, peer-reviewed journals, scientific conferences, eBooks and weekly news periodical Chemical & Engineering News. ACS journals are among the most cited, most trusted and most read within the scientific literature; however, ACS itself does not conduct chemical research. As a specialist in scientific information solutions (including SciFinder® and STN®), its CAS division powers global research, discovery and innovation. ACS' main offices are in Washington, D.C., and Columbus, Ohio.